Press Release - November 26, 2017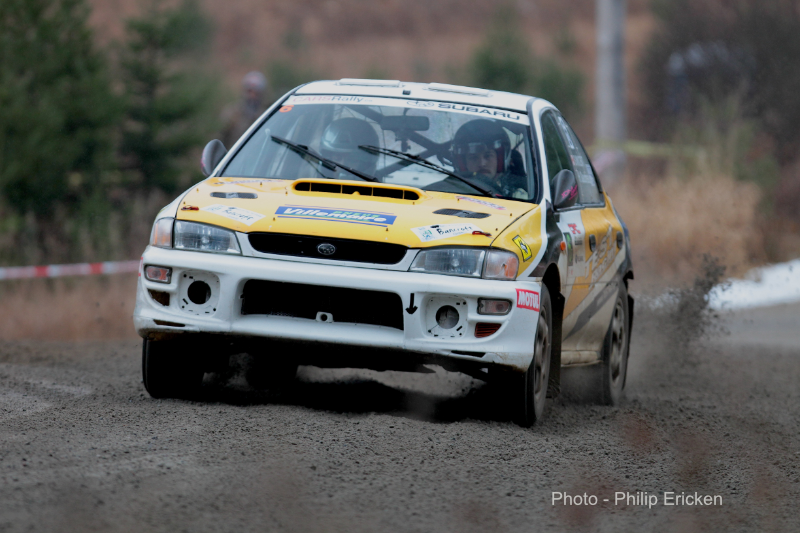 Simon Vincent Wins the Rally of the Tall Pines
and the 2017 Championship!
November 26, 2017.- This past weekend in Bancroft, Ontario, as part of the Rally of the Tall Pines, the 2017 Eastern Canadian Rally Championship (ECRC) season came to an end. Known for its fast challenging roads, this rally was the stage for a duel between Quebeckers Nicolas Laverdière and Simon Vincent, with the latter of the two claiming the victory, alongside his co-driver Hubert Gaudreau !
The competitive stages that made up the Rally of the Tall Pines were, as usual, very tricky. As icy as they were muddy, the forest roads around the Bancroft area did not slow down the two championship title contenders. Simon Vincent, co-driven by Hubert Gaudreau in a Subaru STI, eventually won by a margin of one minute and thirty-two seconds. Heading into this rally, the gap between the two drivers vying for the title was a mere 6 points, with Vincent in the lead. He therefore held the advantage and could have settled for second place in the rally and still win the title but instead, Vincent went for it. Laverdière and his co-driver Vincent Trudel dominated in the beginning of the rally but as of the fifth competitive stage, they were passed by the Vincent/Gaudreau in the standings, on their way to victory.
Simon Vincent was therefore crowned 2017 ECRC champion, with Nicolas Laverdière earning runner-up honours. Laverdière/Trudel (Mitsubishi Lancer Evo) nevertheless claimed the Production 4WD title and with Simon Vincent not always having had Hubert Gaudreau as a teammate in the car this year, Vincent Trudel was crowned overall co-driving champion.
The overall Tall Pines podium was rounded out by Ontarians Peter Thomson and Dan Sprongl, in a Mitsubishi Lancer Evolution. This third place finish was achieved ahead of Quebec rookies Olivier Martel and Vincent Hubert (Subaru WRX STI). Wit/Cox (Subaru WRX STI), Baker/Vincent (Eagle Talon TSi) and Donnelly/Cosner (Subaru WRX STI) finishing ahead of two-wheel drive winners Ontarians Gary and Kylee Sutherland, in a Ford Focus. Jonathan and Benjamin Drake (Subaru WRX STI) completed the Top 10 while the Production two-wheel drive victory and 2017 class title went to Michael Ketchum and Savanna Kovacs in a Mazda 323. They finished the rally in eleventh spot overall.
Missing from this rally were Quebeckers Mathieu and Alex-Samuel Leblanc, who already secured their two-wheel drive championship title at the end of the previous event.
Fourteen of the eighteen teams entered in this 2017 edition of the Rally of the Tall Pines were successful finishers of this, the last round of the 2017 Eastern Canadian Rally Championship (ECRC) season. Nine events in total made up the season, all at the regional level, spread out between Ontario, Quebec, and the Maritimes.
The 2018 ECRC season will start next February with the Rallye Perce-Neige, in Maniwaki (Québec).