Press Release - August 21, 2017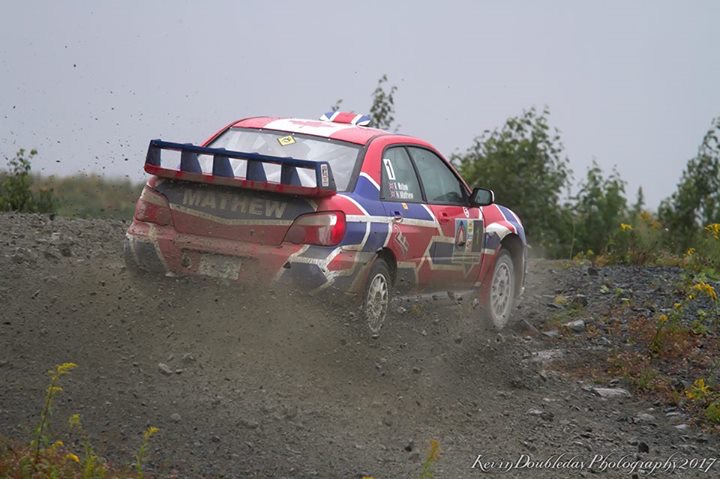 Nick and Kelly Mathew Win in Nova Scotia !
August 21, 2017.- Sixth round of the 2017 Eastern Canadian Rally Championship (ECRC), and the only series event presented in the Maritimes (the 8 others take place in Ontario and Quebec), the Ledwidge Lookoff Rally was won this past weekend by the brother-sister duo of Nick and Kelly Mathew, in their Subaru WRX STI.
Presented in Dartmouth and on the roads around Walton, Nova Scotia, and consisting of ten competitive stages, this event is continuously evolving. With a 50% increase in entrants over last year's turnout, an exciting battle was expected near the front of the pack. Mother Nature also played a big role, unleashing a downpour of rain just prior to the start of the rally, which was held over two days, leaving the competition dirt roads very slippery.
Often competing in national championship events in the more recent years, Nick Mathew, a Canadian Brit now living in Michigan, and his sister Kelly Mathew (Guelph, Ontario) chose to partake in the Ledwidge Lookoff Rally as their only event for 2017. They were crowned victorious with a lead of one minute and 39 seconds over locals Jonathan Conrad (of Milford, NS) and Wayne Pitts (Tantallon, NS), also in a Subaru WRX STI.
The beginning of the rally was highlighted by a duel between the Mathew siblings and Maxime Méconse (Elmsdale, NS). Co-driven by Quebecker Hubert Gaudreau, Méconse took the lead on the first stage and then swapped positions with Mathew mid-way through the competition. After an off-road excursion in the very last stage of the rally, Méconse/Gaudreau and their Subaru WRX STI dropped from second to third place, finishing thirteen seconds behind Conrad/Pitts.
Another Nova Scotia team made up of Cal Vandaalen and Meg Grandmaison, rounded out the Top 4, ahead of Quebeckers Alexandre Garceau and Vincent Trudel and Ontarian Peter MacDonald, co-driven by American Matt Rhoads. Behind them was Stan Hardling, who came all the way from Turks and Caicos, co-driven by Andrew Proudfoot (of Gander, NL), and locals Ian Pearce/Gordon Sleigh. The Top 8 on the overall leaderboard was entire composed of Subarus !
In ninth place, and first in two-wheel drive, were Quebeckers Mathieu Leblanc and Alex-Samuel L'Italien-Leblanc, from Gaspé, with their Honda Civic. This was their second ECRC two-wheel drive victory this season. Of the fourteen teams that started the event, eleven finished.
The next round of the ECRC will take place in just under three weeks as part of the Rallye Défi, in the Outaouais region of Quebec. The headquarters will be based in Montpellier and the section counting towards the ECRC will be held on Saturday, September 9th.
The Eastern Canadian Rally Championship (ECRC) is comprised of nine events, all at the regional level, spread out between Ontario, Quebec, and the Maritimes.