Press Release - August 12, 2017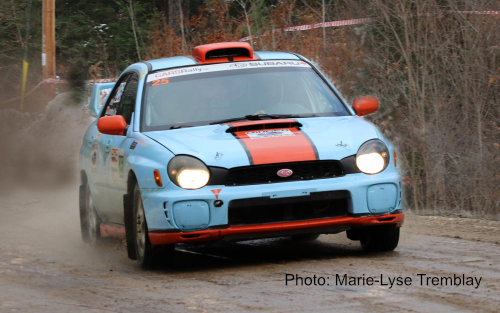 Ontarians Laurens Wit and Jonathan Cox Claim Victory at the Black Bear Rally
August 12, 2017.- Ontarian driver Laurens Wit, of Dunrobin, and his co-driver Jonathan Cox, of Owen Sound, won the Black Bear Rally this weekend at the wheel of their Subaru WRX. This event, held in the Gilmour region of Ontario, marked the mid-season of the Eastern Canadian Rally Championship (ECRC).
Laurens Wit was participating in this event for his third time. After having to retire from the rally early in 2015 and finishing seventh last year, this year Wit took advantage of the fact that no Open class 4 wheel-drive teams started the event, giving him the opportunity to dominate his Production 4WD competitors, and claiming victory by a margin of thirty-two seconds over another Ontarian team consisting of Matthew Ballinger and Bruce Leonard.
The Wit/Cox duo's success played out in the second half of the rally, after favourites Nicolas Laverdière and Jean-Mathieu Tremblay (Mitsubishi Lancer Evo XIII), of Quebec, abandoned with mechanical problems.
The podium, 100% consisting of Subaru WRXs, was completed by Aymeric Levasseur and Sam Roxon, also of Ontario, who finished a little more than four minutes behind the winners, after they incurred a 70 second penalty.
As the overall and 4 wheel-drive winners were victorious for their first time, in 2 wheel-drive, favourites Gary Sutherland and Kylee Davis, earned themselves the top spot for the second consecutive time with their Ford Focus. This Ontario team also claimed fourth place overall, finishing ahead of their championship rival Zoltan Kovacs, co-driven this weekend by Andrew Marek in a Mitsubishi Lancer. Quebeckers Philippe Benoît and Véronique Bernard (Mini Cooper S) rounded out the 2WD podium and the overall Top 6 of this 2017 edition of the Black Bear Rally.
The following round of the ECRC will take place next weekend, as the only event of the season in the Maritimes. The Ledwidge Lookoff Rally, will be held in Dartmouth, Nova Scotia.
The Eastern Canadian Rally Championship (ECRC) is comprised of nine events, all at the regional level, spread out between Ontario, Quebec, and the Maritimes.