Press Release - August 8, 2021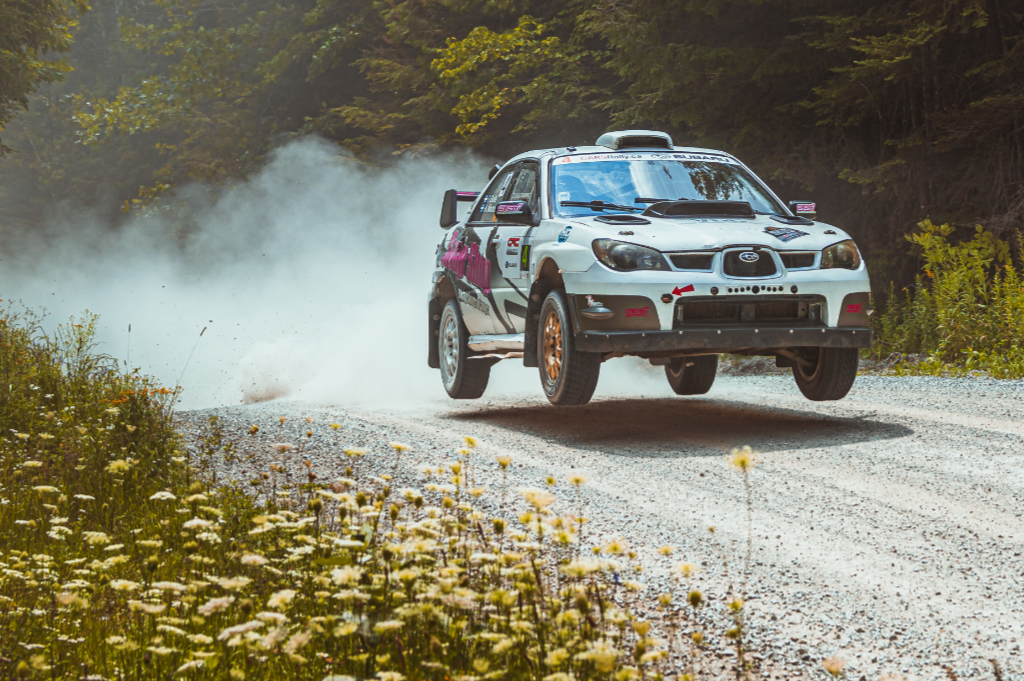 Alexandre Moreau and Ian Guité win the Black Bear Rally!
August 8, 2021.- On Saturday, the Eastern Canadian Rally Championship (ECRC) presented its second round of the 2021 season, the Black Bear Rally, held in the Catchacoma region north of Peterborough, Ontario. This event rich in history was dominated by someone competing in it for the first-time; Quebecker Alexandre Moreau, co-driven by Ian Guité, won the rally in a Swap Shop Racing Subaru WRX STI.
The duo earned fastest time on six of the event's eight competitive stages to finish by a margin of one minute and seven seconds ahead of fellow Quebeckers Jérôme Mailloux and Philippe Poirier (Test Racing Subaru WRX STI).
In the beginning, the battle for the victory seemed like it would play out between the teams of Mailloux/Poirier, Moreau/Guité, and former Canadian Champion Peter Thomson, co-driven by multiple champion Alan Ockwell in a Mitsubishi Lancer Evo. But Thomson/Ockwell were forced to retire during the 4th stage, letting their rivals fight it out for top spot.
Alexandre Moreau and Ian Guité led this 2021 edition of the Black Bear Rally from start to finish, with Jérôme Mailloux and Philippe Poirier being the only other team to win any stages and prevent a clean sweep. It was a satisfying day for the two other Test Racing teams as well. Alexandre Garceau and Matthieu Toupin finished in third place while Philippe Dubé, back behind the wheel after several years' absence, claimed fifth spot with his co-driver Marie-France Desmarais-Trépanier.
Sandwiched between those two teams were Ontarians Andrew Wallbank and David Bell, who finished less than one minute off the podium. Had it not been for their issues that cost them a minute during the fifth and sixth stages, they may have been in contention to battle for the Top 3. In the end, they finished in fourth place, just one second ahead of Dubé/Desmarais-Trépanier!
In two-wheel drive, former drift champion Pat Cyr, co-driven by Dan Cyr, won in their Toyota GT86. The duo also finished in sixth place overall, ahead of Production Class 4WD winners Vincent Trudel and Christopher Trudel (Subaru WRX STI). Vincent Trudel was competing in his first rally as a driver, after having spent the last six seasons reading notes from the co-driver's seat!
The Trudel finished ahead of Ontarian driver Trevor Pougnet, co-driven by Quebecker Natalie Lamontagne (Subaru) in both their class and overall rankings.
The Top 10 overall was rounded out by the second and third place 2WD Open teams of Gary Sutherland and Kelly Mathew (Ford Focus) in ninth place, followed by another Ontarian duo of Sean McConnachie and John Gerryts (Ford Fiesta).
In total, twelve of the sixteen teams that started the 2021 Black Bear Rally also finished. Among the unlucky non-finishers was one of the favourites Sébastien Clark and co-driver Yanick Marin, in a Subaru WRX STI. Engine problems forced their retirement after the sixth stage while they were sitting in third place.
The Eastern Canadian Rally Championship (ECRC) consists of six events this season, spread out between Ontario, Quebec. The next round will be the Rallye Défi Petite Nation and will take place on September 10th and 11th in the Outaouais region of Quebec.
For more information, please visit www.ecrc-crec.ca