Press Release - August 12, 2019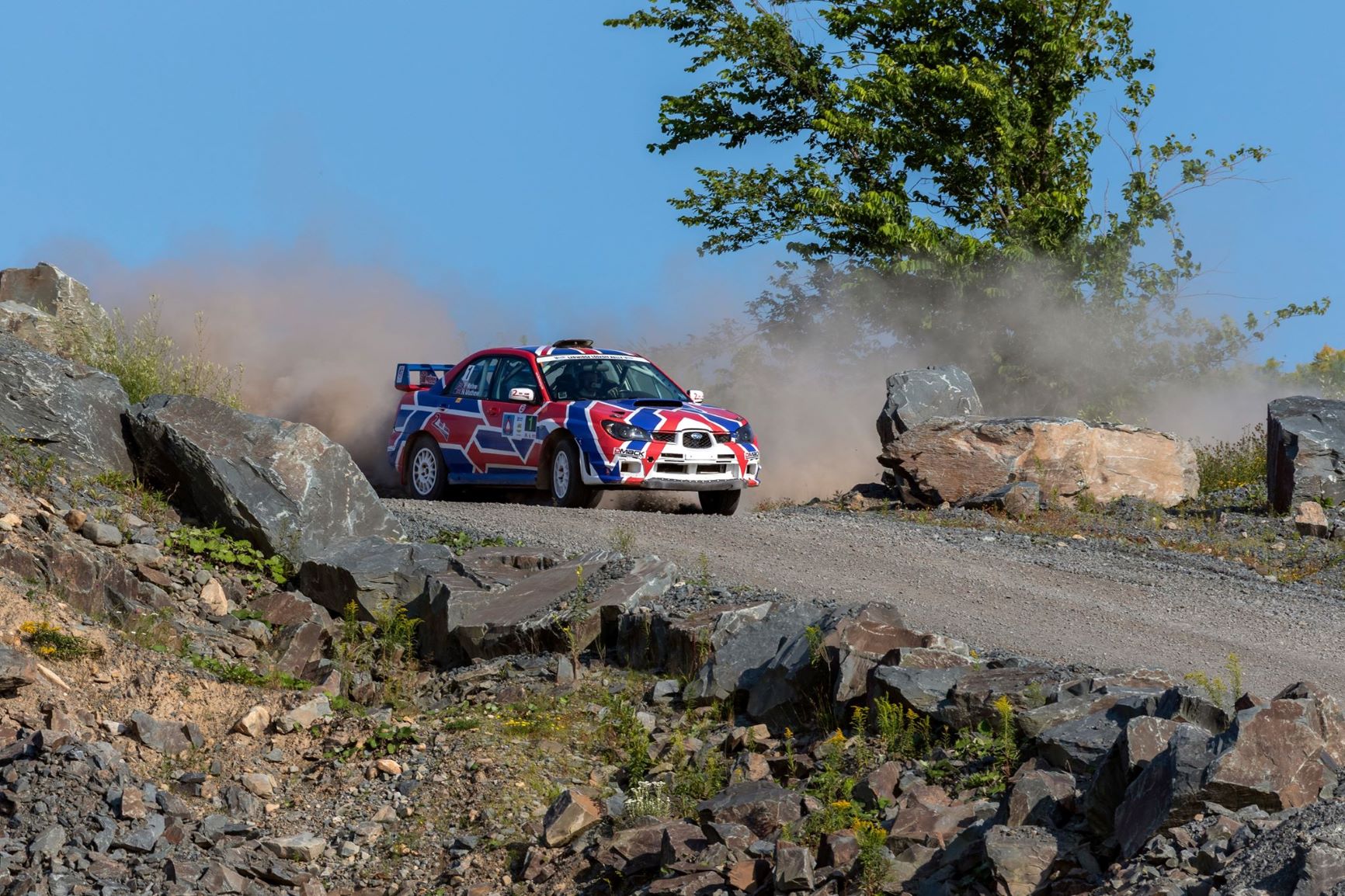 A second win in three years for Nick and Kelly Mathew at the Ledwidge Lookoff Rally!
August 12, 2019.- The sibling duo of Nick Mathew (driver) and Kelly Mathew (co-driver) won the Ledwidge Lookoff Rally this past weekend, the fifth round of the 2019 Eastern Canadian Rally Championship (ECRC). The only round of the season held in Nova Scotia, this event saw the Mathew team claim its second victory after their decisive win in 2017.
The rally was dominated by Nick and Kelly Mathew (Subaru WRX STI) from the start right to the finish. Setting the fastest time in all twelve of the competitive stages on the programme of this two-day event, they crossed the finish line with a lead of three minutes and thirty-two seconds ahead of their closest rivals.
An experienced driver, Nick Mathew explains: « The roads were wetter on the day than they were during recce due to rain in between so the road conditions were a little different than expected. There were some rough sections and some areas with standing water right in the middle of corners, leaving clay-like and slippery surfaces ». Nick Mathew adds: « For us, we had a clean run with no major issues, other than a heavy hit when I cut a corner than wasn't marked in our notes but luckily, it didn't slow us down much ».
Completing the overall podium were two teams from the Maritimes, that of Ben Hartling/Tim Dine (Subaru WRX STI) and Cal Vandaalen/Meg Grandmaison. With their Subaru Impreza 2.5 RS, Vandaalen/Grandmaison also claimed top Production 4-wheel drive spot.
In fourth, only fifteen seconds from the podium, was Ben's brother Sam Hartling and co-driver Sam Roxon. They finished ahead of Hartling patriarch Stan and Andy Proudfoot, Ian Pearce/Gordon Sleigh and Wayne Pitts/Kevin Partridge. The Top 7 teams to finish this edition of the 2019 Ledwidge Lookoff Rally were all contesting in Subarus, while the eighth placed team of Jim Theriault and Sonia Meadows were in an Audi 90 Quattro.
No 2-wheel drive cars were entered in this rally and all teams that started the event also finished the event.
The Eastern Canadian Rally Championship (ECRC) is comprised of eight events, spread out between Ontario, Quebec, and the Maritime provinces. The next event will mark the series' return to Quebec for the Rallye Défi. Located in the Outaouais region (MRC Papineau), with the headquarters in the municipality of Montpellier, this will be the sixth outing of the 2019 ECRC calendar.
For more information, please visit www.ecrc-crec.ca